Helping our partners achieve road safety in India
How can our Geocycle business help make the roads we use safer and greener? That's the ambitious aim of a project that launched this January in India.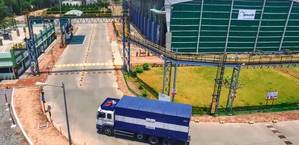 Geocycle already provides sustainable waste management services to 200 customers across this vast country. That means more than 40,000 road trips by our logistics partners each year, picking up waste streams and delivering them to our seven processing centres.
But the roads in India are some of the most congested and dangerous in the world. So Geocycle India has partnered with Green Earth Translogistics Private Ltd to help improve the driving safety of all our logistics partners.
The initiative is named 'Sarathi', an ancient Hindi word meaning 'charioteer', or the guide for a journey. The goal is to help our logistics partners achieve a perfect safety record – zero accidents, zero harm to people and zero damage to the environment for every trip made.
To achieve "Goal Zero", the initiative focuses on implementing technology, guidelines, processes and programs across the entire range of logistics operations. Logistics partners will be streamlined and electronic tools will be introduced for better oversight. Training on safe driving and overall logistics safety will be offered to all partners and employees. The program kicked off in with a focus on hazardous waste for the first year.
"Safety is a precondition for our business and one of our core values," said Berthold Kren, head of Geocycle India. "We are confident that the Sarathi initiative, with the strong support of our external partners, will show a clear improvement and bring down road accident rates, accelerating our journey towards the goal of zero harm to people."
The initiative is aligned with the focus of Geocycle's parent company Holcim, which has embarked on a transformation to reach the same ambition of zero harm to people, across the business. Among the measures is an active focus on safer driving.
Watch the video!
Geocycle India
Geocycle India provides sustainable waste management services to more than 200 customers across the country. It has the capacity to handle more than 6,50,000 tons of waste per year. A team of close to 120 professionals come together to provide seamless and state-of-the-art services to our customers. We have a pan-India presence of 14 co-processing facilities to co-process waste sustainably and seven dedicated pre-processing facilities for handling large-volume and varied kinds of waste.