Not going to waste: Our initiative in Colombia earns big praise

CAMACOL, the Colombian Chamber of Construction, awarded its National Prize for Social Responsibility to Holcim Colombia for its successful campaign to increase recycling and co-processing in several municipalities of Boyacá. Since 2015, the initiative has benefitted more than 18,000 people by implementing recycling programs, educating the community about waste practices and increasing the amount of waste diverted to co-processing.

Mobilizing the community
Partnering with government authorities, regional school headmasters and institutions, Holcim Colombia implemented environmental education activities to strengthen the commitment of the community. Efforts focused on driving a recycling culture, encouraging preventative waste management and sourcing waste for co-processing.
To help drive a recycling culture, recyclers were identified and honored at events. Today, the community recognizes the value of recycling, thereby diverting reusable materials from the waste stream while also creating jobs.
Environmental training has been central to the goal of encouraging a culture of proper waste management. Holcim Colombia partnered with schools in environmental projects and youth training programs. In addition, door-to-door community educational programs were used to help community members understand the most environmentally friendly ways to manage waste.
Sourcing of waste for co-processing was organized in partnership with the Interinstitutional Technical Committees of Environmental Education (CIDEA), the government agency that implements national environmental policies and environmental education. Waste is collected by subsidiary Eco Procesamiento for co-processing in the cement kiln at the Holcim plant in Nobsa.
Waste not, want not 
The initiative has ensured that all recyclable and non-recyclable waste is used efficiently. Recyclable materials are diverted from the waste stream while solid waste that can be co-processed is diverted from landfills and used as fuel.
Eco Procesamiento now processes more than 18,000 tons of waste annually. By integrating waste into the cement production process, not only are the environment and local communities protected from unsafe waste disposal, burning waste during the production of clinker reduces the use of fossil fuels in the plant.
Waste management is an intensifying issue as waste increases with economic growth and urbanization. This initiative in Colombia helps to solve problem while helping us achieve our 2030 Plan circular economy target to use 80 million tonnes of resources made from waste in our operations annually, as well as our climate target to produce 40% less net CO2 per tonne of cement than we did in 1990.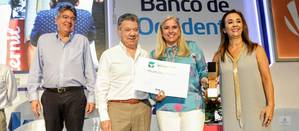 Juan M. Santos, President of Colombia, presents the award to our Public Affairs and HR Director during the Colombian Construction Symposium closing ceremony held in Cartagena.