Geocycle UAE to receive an award from Ministry

UAE Minister of Environment and Climate change to award Geocycle UAE after its achievement on waste recycling
Dr. Thani Ahmed Al-Zeyoudi, Minister of Climate Change and Environment, and business leaders attended a meeting at Emirates Global Aluminium -EGA- on re-using industrial waste. The event was held under the  ministry of Climate Change and Environment's 'UAE Toward Cleaner Production' initiative to reduce UAE industries impact on the environment and improve its global competitiveness.
At this event, Al-Zeyoudi recognised EGA, EcoCem Industrial Ecology, Eco Industrial Solutions, JK Cement Works, Lafarge Emirates Cement, Pioneer Cement Industries, Union Cement Company, and Star Cement for their pioneering work since 2010 to re-use waste from aluminium smelting in cement manufacturing.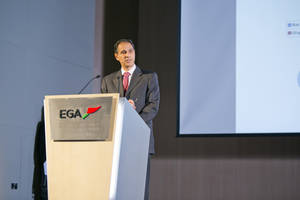 Ecocem (which rebranding name into Geocycle is currently at final stage) has been partnering with EGA since 2009 and started the first trial of material recovery in Lafarge Emirates Cement -LEC, member of LH- in 2010. After successfully achieving more than 80,000 tons of SPL (Spent pot liners) recycled in the cement industry over the past 7 years, Geocycle UAE is now capable of recycling upto 24,000 tons a year of SPL and is
working on increasing its capacity to reduce the historical stock at EGA facility along with its newly generated waste. In parallel, Geocycle UAE is taking new steps with other type of waste generated by the same customer EGA to provide a more comprehensive service of its waste management activities.