Geocycle UAE explains the importance of recycling to school students

Riad Bestani, General Manager of Geocycle in the United Arab Emirates (UAE), a 100% subsidiary of Holcim in waste management, recounts a day well-spent educating 150 school children about recycling and Geocycle's waste management work.
Riad, tell us more about the interactive class you held at the French Lycée Georges Pompidou in Dubai.
I was approached by my child's English teacher a couple of months ago because she knows that I work in waste management. She asked me if I could speak to the 6th grade class on environment and recycling, and give them my perspective on waste management.
It was originally supposed to be a small presentation for 25 pupils, but I ended up with an audience of 150 children!
What did you cover in the session?
I explained how recycling is carried out around the world and in the UAE, Geocycle's role in reducing landfill, and how the kids can contribute personally to a more sustainable environment with proper recycling. At the end of the hour we had a question session where they raised all sorts of waste management questions, from nuclear waste and ocean plastics, to Geocycle's work and what they could do themselves at home.
They already had introductory courses on recycling and waste segregation, but they wanted to discover where it was going and why it was segregated.
How did the children enjoy their class?
To break the ice I initially asked for volunteers to pick items I had hidden in my trash plastic bags, and was amazed by the hands that shot up all over the room. They were very keen to answer my questions too!
I was thrilled by their enthusiasm and enormous interest in the topic, which allowed for a fun-filled and very interactive hour. I am confident we sent them home with a changed perspective on recycling at the end of the day.
You might not assume that waste management would be engaging for children, but again there were hands up all over the room!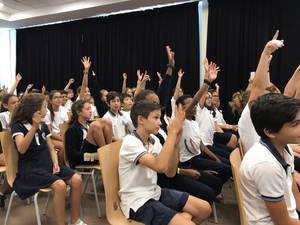 Were they surprised by any of your answers?
None of the children knew that segregated waste has a "second life" and that industry such as ours can do something about it, so it was good to spread such knowledge. At the end of the session I gave them a cartoon book that summarizes waste-to-energy in cement to help them remember what we discussed together.
What is your take on the experience?
As I only recently joined Geocycle, it was my first time discussing waste management with a large group. The fact that it was with children, who needed simple words and funny pictures, was a little bit of added stress! However, it was clear that the children were eager to learn, so I enjoyed it very much.
I am sure some of them will pursue careers in the environmental sector, and maybe even join the Geocycle family one day!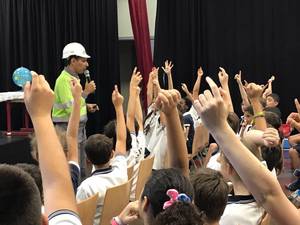 Are you a waste management expert - take the quiz and find out!!