Geocycle is proud to support Nestle on the path to achieve 100% plastic neutrality
Geocycle is committed to working towards creating a Zero Waste Future. In Mexico, Nestlé, in partnership with Geocycle, will become the first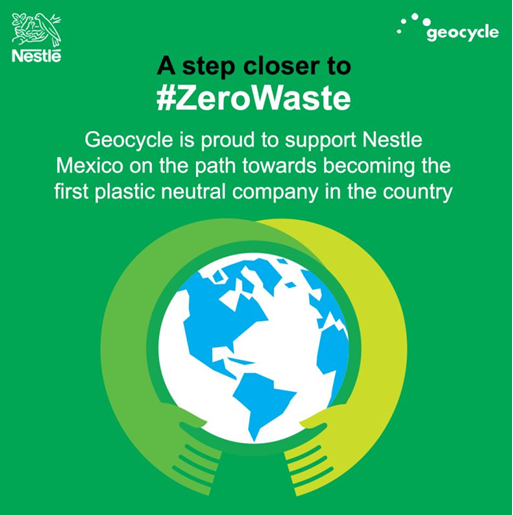 company in the country to achieve 100% neutrality of the plastic they use, as part of their path to zero net emissions. Thank you for relying on Geocycle Mexico to be your strategic ally on the road to plastic neutrality. 
Seventy-five percent of all plastics ever produced have accumulated in landfills and the natural environment. The world is on track to add 12 billion more tons to that amount by 2050, or more than double the already alarming amount.
Geocycle is stepping up to this challenge by helping businesses achieve plastic neutrality through its PlaNet (plastic neutrality) Solutions. Geocycle collects and sorts plastic waste on behalf of PlaNet partners like Nestle, then channels the recyclable materials towards the recycling industry. The non-recyclable plastics are managed safely and effectively through co-processing, where the energy is recovered and the material fractions are recycled. PlaNet partners receive certificates confirming safe and effective management of the waste collected.
Nestlé is committed to a waste-free future, where none of its post-consumer packaging, including plastics, end up in landfills or oceans. They have chosen Geocycle as a partner in Latin America to achieve this ambitious target. 
In Costa Rica the collaboration has resulted in the first local industrial-scale sorting station to divert packaging waste from the biggest landfill in the country. Nestlé Costa Rica neutralized the equivalent of 100% of its post-consumer plastic waste during the month of October 2020 - a
company first in the Americas. Now the two companies have an agreement in Costa Rica to achieve plastic neutrality every month for one full year. This is the first step in the regional partnership, with similar collaborations in place in Mexico and  Ecuador.  
Read More: https://bit.ly/3vF14wq