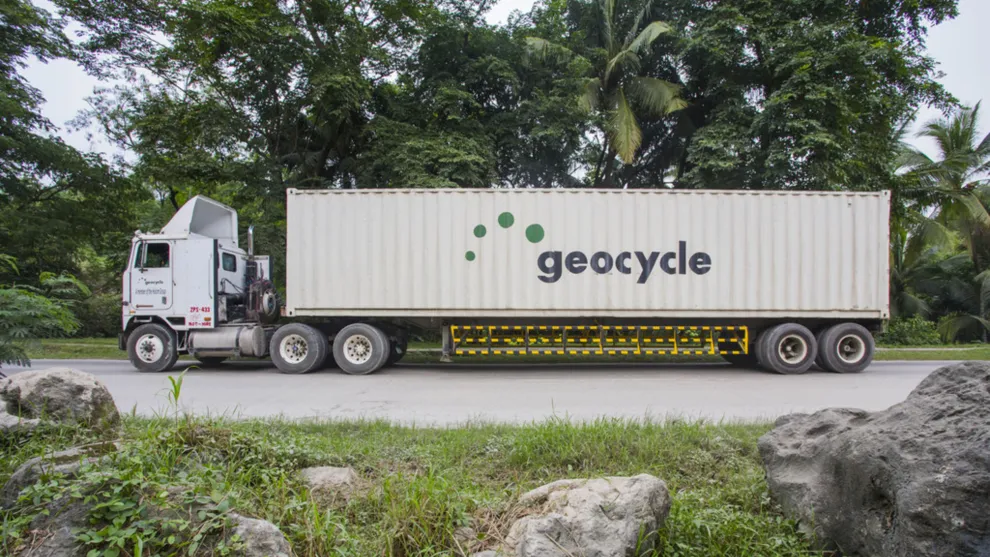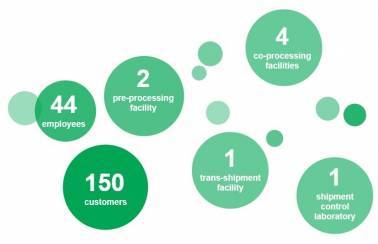 Overview
Geocycle Philippines is part of the global waste management business of Holcim Group that envisions  a zero-waste future. In the Philippines, Geocycle has been actively developing and promoting innovative, customized and safe environmental waste management solutions for more than a decade.  
Waste management services provided to our stakeholders are in accordance to local regulatory requirements, ensuring highest standards of service and environmental compliance.
In 2017, Geocycle Philippines co-processed total volume of more than 135,000 MT across all sites.
Be part of the global movement to responsibly manage your wastes and preserve natural resources for the future generations – because tomorrow matters!
Our Services and Waste Streams Managed
Our Services:
Responsible solutions for environmental footprint management.
Professional waste management consultation
Our team of highly-competent professionals, collaborates with you in improving your environmental impacts and liabilities through secure waste management
Comprehensive waste analysis and characterization
Our licensed chemists analyze waste materials in our laboratory using state-of-the-art equipment to guarantee results accuracy while strictly complying with standards on health, safety and environment.
Secure waste transport, handling and collection
Geocycle provides efficient and seamless logistical service with the required relevant regulatory permits.
Adequate and secure storage area
Geocycle's storage areas, equipped with adequate safety and security measures including ground contamination protection layer and surveillance cameras, are designed to accommodate large volume of wastes.
Customized material pre-processing
Our extensive facilities and equipment handled by well-trained operators are available to pre-process materials (ie. shredding, blending, stabilization).
Total waste management solution using the Cement Kiln Co-processing Technology
Geocycle's total thermal treatment technology, equipped with advanced Continuous Emissions Monitoring System, ensured complete eradication of harmful waste substances while adhering to global environmental standards and is well within the limits set by Philippine Clean Air Act. Certificate of Treatment is issued for all the wastes pre-processed and/or co-processed at its facility.

Waste Streams Managed:
Geocycle has the capacity to handle a wider range of waste streams. Prescribed Waste Acceptance Criteria are set  to ensure compliance to health, safety, environmental and product standards.
Geocycle was able to create strong ties in various Commercial & Industrial sectors such as Oil & Gas, Semiconductor & Electronics, Consumer Goods, Food & Beverages, Pharmaceutical, Automotive, Agricultural and Entertainment in managing their various wastes and related services. Below are some of the most common waste streams co-processed:
1. Waste Oil and Sludges                                             6. Reject Packaging Materials
2. Process Sludges                                                       7. Off-spec products
3. Agrichemical Wastes                                                 8. Manufacturing line rejects
4. Contaminated Rags and Absorbents                        9. Waste rubber
5. Expired Medicines                                                   10. Unrecyclable plastics
It has also established some network with Municipalities in working together for the Sorted Municipal Solid Wastes (MSW) management.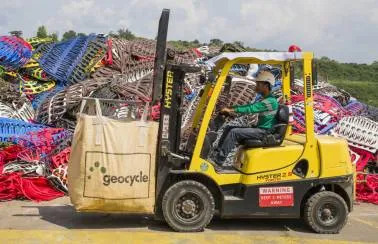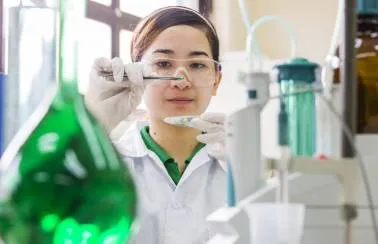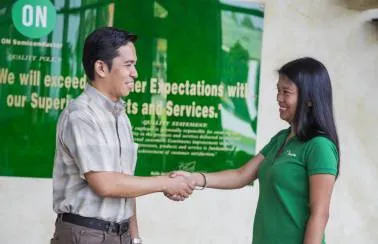 Our Locations
Our strategically located facilities in the Philippines' archipelago enables us to provide extensive reach to our customers. We have four co-processing facilities located at Bacnotan, La Union; Norzagaray, Bulacan, Luga-it, Misamis Oriental; Davao City, Davao.
Two pre-processing facilities in Bulacan and Luga-it, and a Trans-shipment Storage Facility in Mandaue, Cebu augments our capability to accept and co-process wide range of waste materials.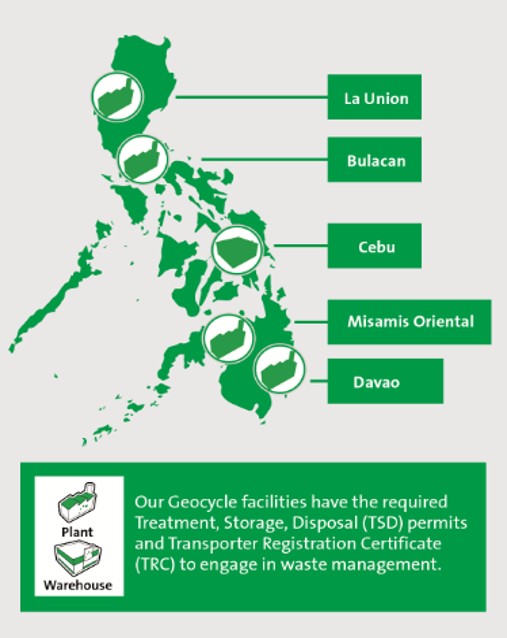 Geocycle Philippines
7F Two World Square
Mckinley Hill, Fort Bonifacio
Taguig City, 1634
+63 2 8581 1511
Info-phl@geocycle.com
La Union
Brgy. Quirino, Bacnotan, La Union
La Union, 2515
Bulacan
Bo. Matictic, Norzagaray, Bulacan
Bulacan, 3013
Transfer Station Cebu
Unit 5, Unitop Warehouses, Ouano St., Brgy. Looc,
Mandaue City, Cebu, 6014
Luga-it
Bo. Salimbal, Lugait, Misamis Oriental
Misamis Oriental, 9025
Davao
Bo. Ilang, Davao City Davao City, 8000
Contact
Geocycle Philippines
7F Two World Square
McKinley Hill, Fort Bonifacio
Taguig City, 1634
+63 2 8581 1511